Posted in
London
on December 6th, 2005 by jcn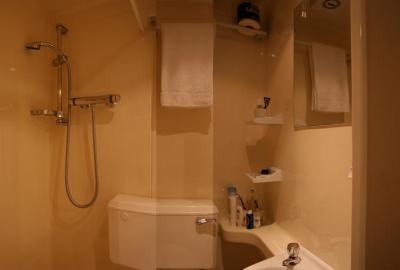 We've never actually stayed at a hostel before, but we recently learned from the New York Times that the hostels of today are no longer the room-sharing, toilet down the hall adventures that they once were. Many of them even offer private ensuite accommodations, which makes us wonder what makes a hostel and different than a sans-"s" hotel. Regardless, on our last visit to London, damned if we were going to stay somewhere that required a trek out of the room at 2am to visit the loo and so "ensuite" was our keyword of choice. Wanting to be fairly central, we discovered the Arosfa hotel, a smartly appointed hotel on Gower Street that struck us as neither overly generous in its amenities nor overly stingy (I believe that the "full English" breakfast was on all occasions missing at least one ingredient that would have brought it up to the level of being a "full" English as opposed to, say, merely toast, tomato and eggs; also, there was no Internet to be found at all on the premises; but there was a breakfast involved and the entire building was immaculate).
True to its advertisement, the room we got (on the top floor no less) did feature private facilities, but the true marvel was the engineering required to deliver the room with a full shower, toilet and sink all in a space smaller than 5′ square. The shower was designed such that we had to turn the water on with the shower head pointing at the wall, lest the spray from the nozzle soak the entire room. Once the temperature was to our liking we were to step into the shower area, pull the curtain around us, and only then swivel the shower head into position.
The toilet itself was situated in such a way that our knees pushed up against the bathroom door when it was closed, which made for a rather distracting experience, and which required us on several occasions to use the loo with the door ajar. This in itself was something of an adventure for to get the plumbing in place for this loo-in-a-box, the entire unit was placed about a foot off the floor, which gave us the feeling of relieving ourselves from a very, very high place.
While it was not the most comfortable hotel bathroom experience we could have had, it continues to give us much joy in discussions of it as an engineering marvel, and for that we can do nothing but whole heartedly recommend it for all London-bound travelers.